Falk Culinair USA is collaborating with select chefs to educate consumers on the techniques and benefits of copper cookware.
We're excited to announce Chef Erika Rapp of Registry Bistro, located in Toledo, Ohio as our first Chef Consultant!
We knew she was the perfect fit when she opened a package of pans with such enthusiasm and said, "some girls like shoes, I like pans."
She is the executive chef and co-owner of Registry Bistro, along with her mother. Chef Erika was initially trained at the Culinary Institute of America. She then moved on to develop her skills in some of the finest kitchens around the country, under the direction of the most acclaimed chefs of this time.  As a Northwest Ohio native, she eventually landed back in her hometown. She was Chef at Diva Restaurant then Director of Culinary and Special Events and Chef at the world-renowned Toledo Museum of Art, until finally opening her own restaurant.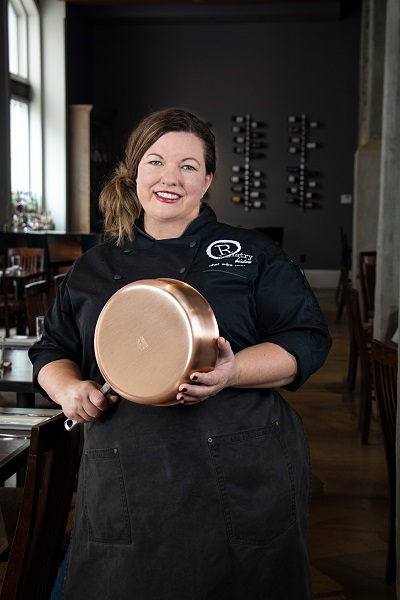 Her menu features American classics with eclectic and modern twists inspired by her travels and teachings, as well as local seasonal harvests. In addition, she experiments with gluten free, vegetarian, and vegan menu items in order to appeal to all dietary needs. Check out her vegan gnocchi recipe we shared in Thrive magaizine. 
In collaboration with Falk Culinair USA, Chef Erika is eager to educate consumers on the benefits of using copper cookware, inspiring us all through sharing different cooking techniques, recipes and more!  It's an honor for us at Falk Culinair USA to work with a well-educated, artistic chef like Erika.  We look forward to showcasing her skills and knowledge.
Registry Bistro is located in the historic Secor Hotel in downtown Toledo, Ohio. Be sure to stop in and visit!