COPPER SAUTE PANS 
THE MOST VERSATILE PAN IN THE KITCHEN
The sauté pan is the perfect pan to begin your copper cookware collection. Its versatility makes it a great addition to any home chef's kitchen due to the fact that it is great for searing meats, perfect for rendering beautiful sauces and can easily transfer to the oven to finish cooking or the table for a lovely presentation.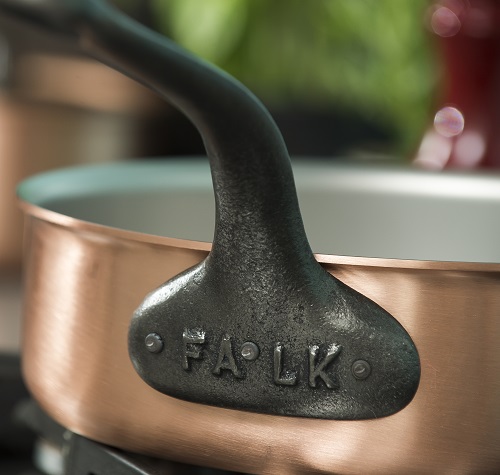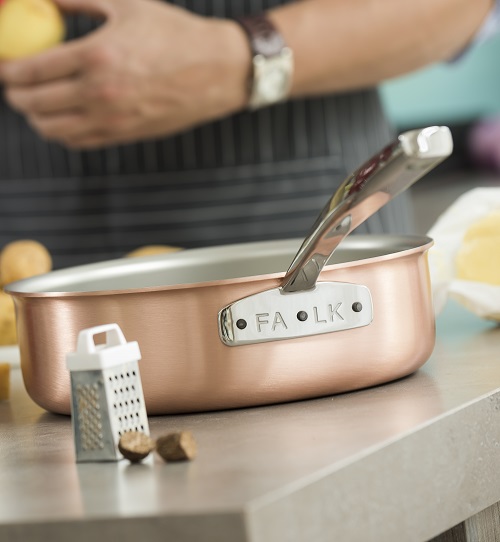 The biggest advantage in a sauté pan is that it is true to dimension. Sauté pans differ from frying pans in that the flat circumference of the base of the pan is equal to its diameter. Therefore, the cooking area of a sauté pan is much larger than that of a frying pan. Sauté pans also have deep, tall vertical sides. This means that cooking enthusiasts can easily shallow-fry in the cookware and make a beautiful sauce in the same pan as the protein. The copper sauté pan has even more advantages. Copper's natural ability to rapidly heat to an even temperature allows copper sauté cookware to be the best pans for searing proteins. While some chefs may argue that you can easily sear meat in either a sauté pan or a frying skillet, particularly copper sauté pans are the best for this purpose due to the fact that copper heats faster than other types of cookware and copper also evenly distributes heat across the entire bottom of the pan allowing for the perfect even sear. While we are discussing the precise temperature control and energy efficiency of copper cookware, this is also why copper sauté pans are great for rendering sauces and one-pot meals. These innate features allow sauces to cook at a lower temperature and prevents burning. As mentioned, sauté pans have a wide base and deep, vertical sides making it the ideal pan for saucy dishes, casseroles or frittatas. The wide base allows for more cooking room but the deep sides are very forgiving to the home cook who may be prone to spillage while sautéing or frying. This also makes these pans easily transferable from stove-top to oven. ​Take advantage of Falk Culinair's September Saute Sale and save 25 % on all saute pans thru September 20th.
SEPTEMBER SAUTE SALE 
25% OFF ALL SAUTE PANS!