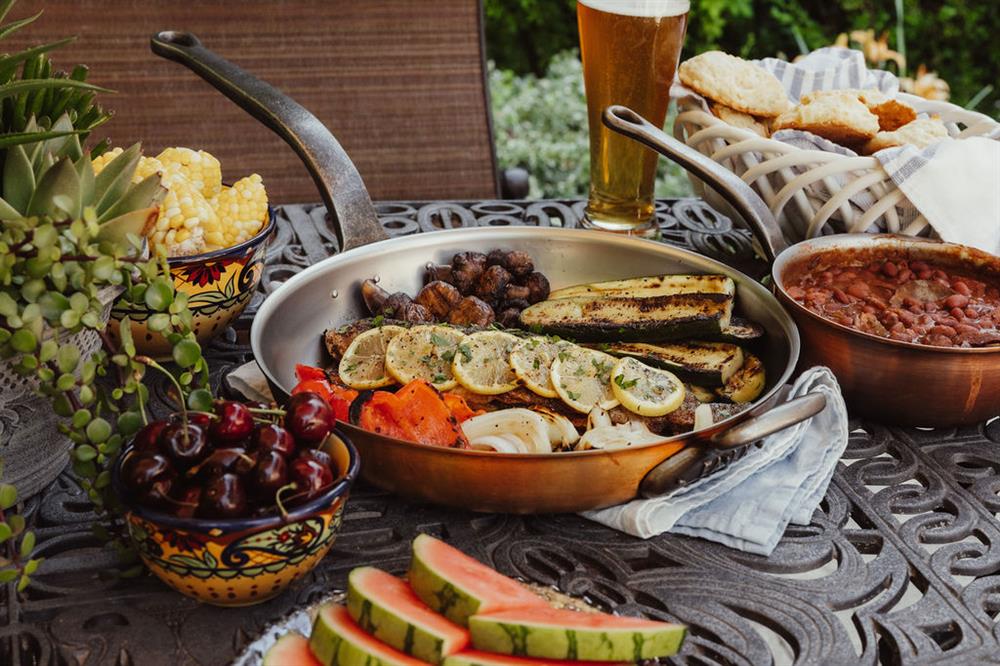 Falk copper pans perform beautifully in the kitchen or on the grill.  Check out our blackened trout recipe below and our friends at Breeo Fire Pits who use Falk Copper pans on their beautifully crafted fire pits.
Pan-fried Blackened Rainbow Trout
Ingredients:
½ cup peanut oil or a neutral high heat oil
2 ½ lbs whole rainbow trout
6 tbsp butter - 2 cold and cubed, 4 melted
1 lemon sliced into at least 10 rounds
15 sprigs flat parsley
Blackening seasoning to taste
To prepare:  
Gently rinse fish in cold water and pat dry.
Season the inside of each fish liberally with blackening seasoning (recipe below). 
Add three slices of lemon to the inside of each fish with parsley divided. 
Add one tbsp cold cubed butter to the inside of each fish.
Gently brush outside of each fish with melted butter and season to taste with blackening seasoning. Set aside to cook.
Heat oil in pan over fire until oil reads at least 350 degrees fahrenheit.
Gently place fish in hot oil, turning occasionally to ensure even cooking.
Cook fish in oil until the thermometer reads 145 degrees fahrenheit at the thickest part of the larger fish, 10 to 15 minutes, checking the temperature regularly. 
In the last few minutes of cooking (before fish is cooked to temp), add four slices of lemon to infuse oil and fish with lemon flavor.
Let rest for five minutes and serve.
Blackening Seasoning
4 tbsp smoked paprika
1 ½ tbsp onion powder
1 ½ tbsp garlic powder
1 tbsp dried parsley
1 tbsp dried thyme
1 tbsp black pepper powder
1 tbsp dried oregano
1 tbsp dried basil
1 tbsp white pepper powder
1 tsp cayenne pepper powder
3 tbsp salt
Red Beans and Rice
Ingredients:
3 tbsp bacon fat or oil
3 tbsp tomato paste
1 lb dried red beans - soaked overnight then drained
12 ounces andouille sausage - cut into ¾ inch lengths
1 quart chicken stock
1 ¼ cups celery - diced fine
1 cup onion - diced fine
1 cup green bell pepper - diced fine
1 tbsp tobacco sauce
4 bay leaves
3 tbsp blackening seasoning
Fresh hot rice
To prepare:
Heat pan on medium high heat. 
Add three tbsp bacon fat or oil to the pan and heat until shimmering. 
Add spices, bay leaves and tomato paste and fry until fragrant (about 2 minutes).
Add celery, onion and bell pepper and cook until onions are translucent.
Add beans and chicken stock to cover. 
Bring to a boil, lower heat to a simmer and cover stirring occasionally for one hour.
Add andouille and cook, covered for another hour until thickened and beans are cooked through. Serve on rice.