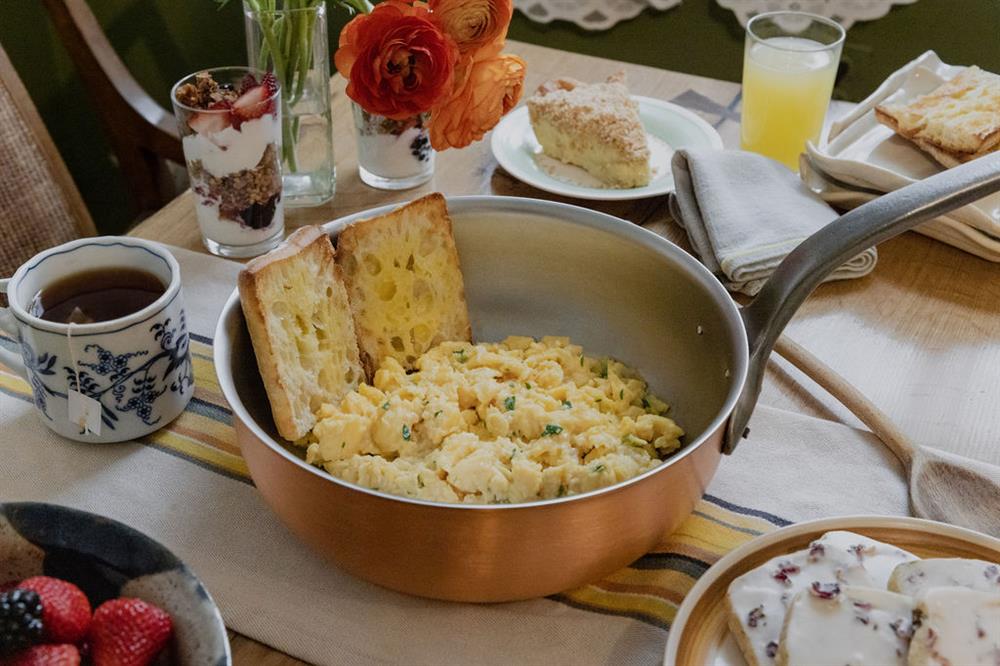 These silky, creamy scrambled eggs truly make breakfast a special occasion, and the slow, low cooking technique required perfectly complements the nuanced temperature control a heavy-weight copper pan, such as Falk, provides. 
Creamy French-Style Scrambled Eggs
via Cook's Illustrated
Prepared in Falk Classic Saucier
8 large eggs
½ teaspoon salt
3 tablespoons water
1 teaspoon minced fresh parsley
BEFORE YOU BEGIN
For the creamiest, richest-tasting result, be sure to cook these eggs slowly, following the visual cues provided. It should take 12 to 14 minutes total. Though the eggs will be rather loose, their extended cooking time ensures that they reach a safe temperature. You can prepare two servings by halving the amounts of all the ingredients. Chives or tarragon can be substituted for the parsley, if desired. Serve with buttered toast.
INSTRUCTIONS
Using fork, beat eggs and salt until blended.
Heat 2 tablespoons water in 10-inch nonstick skillet over low heat until steaming.
Add egg mixture and immediately stir with rubber spatula.
Cook, stirring slowly and constantly, scraping edges and bottom of skillet, for 4 minutes. (If egg mixture is not steaming after 4 minutes, increase heat slightly.)
Continue to stir slowly until eggs begin to thicken and small curds begin to form, about 4 minutes longer (if curds have not begun to form, increase heat slightly).
If any large curds form, mash with spatula.
As curds start to form, stir vigorously, scraping edges and bottom of skillet, until eggs are thick enough to hold their shape when pushed to 1 side of skillet, 4 to 6 minutes.
Remove skillet from heat.
Add remaining 1 tablespoon water and parsley and stir vigorously until incorporated, about 30 seconds.
Serve.